This thread also displays on the following board(s):
Calgary & Edmonton & Vancouver & TSAC
Topic: Tornado vs Shelti vs others

Hi I am looking to get into foosball and get a table in my home. I have done some research and from what I have read online it seems that Tornado is the sports standard, and it is what all others are compared to. Shelti is also good and is very close to Tornado in quality and can be found at a better price/value. Are there any others that are in the same league as these?

Also, where in Calgary is the best place to buy one of these tables? Do quality tables ever come out for sale used?

Any info would be appreciated and any comment on any foosball tables would be great. Thanks

Aaron



You may want to wait for the updated (coin-op)versions of both the Fireball and possible Warrior tables.

The Fireball that should come with the higher quality bars is probably at the top of most lists.

A Used Tornado T3000 coin-op is ok depending on the price.



The Tornado used to be a great table that never broke or wore out. Lately, though, they have cut a few corners and I have difficulty recommending them anymore. The goal posts chip and the men break too easily. The Fireball is still in its infancy and will change over time - not sure if it will be a good purchase or not. Warrior is a similar thing - not sure if the company will continue producing tables nor am I sure what quality they will have.

However, for home use, any of them should suffice.



"You may want to wait for the updated (coin-op)versions of both the Fireball and possible Warrior tables."

Warrior will never produce a coin op - or at least certainly doesn't have one in the plans right now.. Fireball already has one in use, but it is exactly the same as the Pro Tour Model.

"The Fireball that should come with the higher quality bars is probably at the top of most lists."

The Black rods that are on the ITSF Model are much slower and heavier than the Silver rods on the Pro Tour Model. All of the players in Edmonton (Christian, Simon, and Myself) prefer the silver rod because it is much faster and still is as strong as any rod ever made.... it doesn't bend. My personal preferance of any table would be a Fireball table with the silver rods. Next choice would be a Tornado T-3000, but only once they start manufacturing good tables again (if that ever happens).

Aaron, if you could purchase a used Tornado Coin op for around $1000 and it was in good shape that would be a good deal, a Fireball also would be good, or any other tournament quality table.

The best advice(and I think every tournament player would agree to this) would be to not buy a "home model" table from costco or something like that, it will just be 600 bucks down the drain.




Will wrote: "it will just be 600 bucks down the drain". This is probably true. However, if you are not going to play much, then a more expensive table MIGHT be $1000-$2000 down the drain.

However, Tornado tables have, in the past, held some if not most of their value over the years on the second hand market. In other words, they do not depreciate in value as quickly as the $600 home model. The depreciation on those low end tables is quite high and they end up having little to no value after only a few years. The resale value is something to consider, especially if you are not sure you will keep playing on the table. Also, if you plan to get married in the near future, resale value is important as your wife might have other ideas about the necessity of keeping a foosball table around the home; it's kind of like convertibles and muscle cars - women just don't seem to get the importance thereof.



I like the black bars, they seem lighter then the Tornado's. Maybe because tornado weights their men with lead, which seems kind of dumb in retrospect, but there are benefits.

Still the Fireball black bars are sweet, the balls aren't perfectly round though and there are quality control issues they are still dealing with, parts ... ? The game is better with much improved back pins, banks and only a single man on the goalie bar, and other details like the better rubber bushings and Time Out markers. The way the plastic bushings are made you can flex more of the bar when you make a shot, getting more power into it.

Fireball is a great table, but it's not a Tornado and tournies around here will be held on Tornados for some time to come. If you buy a Fireball and come out to DYP's on Tornado you will need to make an adjustment, so depending on how you react to that, some players don't really care, others do.

I like Fireball but if your just starting out a used Tornado is probably your best value.



wow quick replies guys, thanks a lot. Gives me something to chew on for a little while until I ultimately make a decision and purchase a table.



If you don't wanna spend the money.

Fireball table/ Tornado Cylone version.

You know the rest



Have you looked at Garlando?



no haven't really looked into Garlando.. should I?
Would the warrior table on the main page on Calgaryfoos be a good table?



I wouldn't consider buying anything other than Tornado. Look for a used Coin-op. They are around. Don't waste your money on a Warrior. Last time I was at Ivor's house he had a band new Tornado in the box he won at the HOFC.



Not trying to disagree with Simon, but I don't think it would be a waste of money to buy the Warrior at that price - it is almost as good of a table as Fireball/Tornado - and completely adequate for home use.

If you plan on playing in tournaments or leagues then I think it would be a waste of money, also your resale value will be lower but if you have no plans to sell it then it would be fine.

The table will last you a very long time, and you could use Tornado parts to replace anything if something does break.



What event did Ivor win at hof?



I can't remember for sure but I think something meaningless like the Pro/Am lol.



>>it is almost as good of a table as Fireball/Tornado - and completely adequate for home use.

Where would you get Rods, Men, Bearings ect. locally?

>>What event did Ivor win at hof?

One of the toughest events at the HOFC. He won it in a draw.





Draws are pretty cool to win, there are actual open players playing in that event. Who did Ivor play with? That is pretty sweet.

You could use Tornado men/Rods, they fit perfectly. The rods would be fine forever virtually though - they are solid rods that don't bend too easily. The men are very similar in shape. Bearings might be a tougher one, but hopefully they wouldn't break.

If you could find a used Tornado Coin it wouldn't hurt that is for sure.




not a DYP. More of a door prize



Haha. Oh I get it, that kind of draw.



Did he win it with Eric Goodman? I cause i remember hearing he won it from a draw too. Haha that is sweet



Yes I'd take a serious look at garlando. Pretty cheap, light so it's easy to move around the house. Telescoping rods so that's cool. Men don't break so you can save money there. Balls are wobbly so it keeps you on guard and your reflexes sharp.



Nathan you're such a troll. Remember when we used to have tournaments on the Garlando at the Cove?

As most others have said try to find a used Tornado coin-op. You won't be disappointed.



I probably would not look at Garlando simply because nobody in Western Canada plays on them.



How can you argue with a guy with such nice hair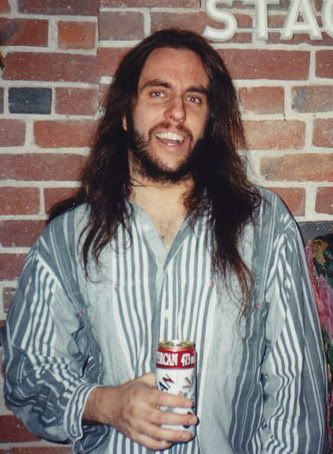 Is that who i think it is

?



That put a smile on my face



The key question is, where the heck did Simon get that? That would have been 1994 or earlier.



The other question is, why is it that all the pictures I have of that time are in that shirt and holding a Molson Canadian?



Someone ... please post the "NOW" picture that goes with that "THEN" shot lol.



I googled long hair beer drinking dude. You were the first image. Naaa, it's on facebook.




Garlando/Fabi is great if you just want a home table just to play around on and have fun. The quick play style in my opinion of a Garlando/Fabi and its light rods make it a better time if you're just looking for fun and games. It's great for learning ball control skills though. I started playing foosball on a Fabi and loved it.

If you want to get serious, then a Tornado is probably the better option (although, used Tornado is about the same price as a brand new Garlando).


This thread does not accept replies because:

The last post to this thread is more than 30 days old.