This thread also displays on the following board(s):
Calgary & Edmonton & Saskatoon
Topic: Runaway Bay Tournament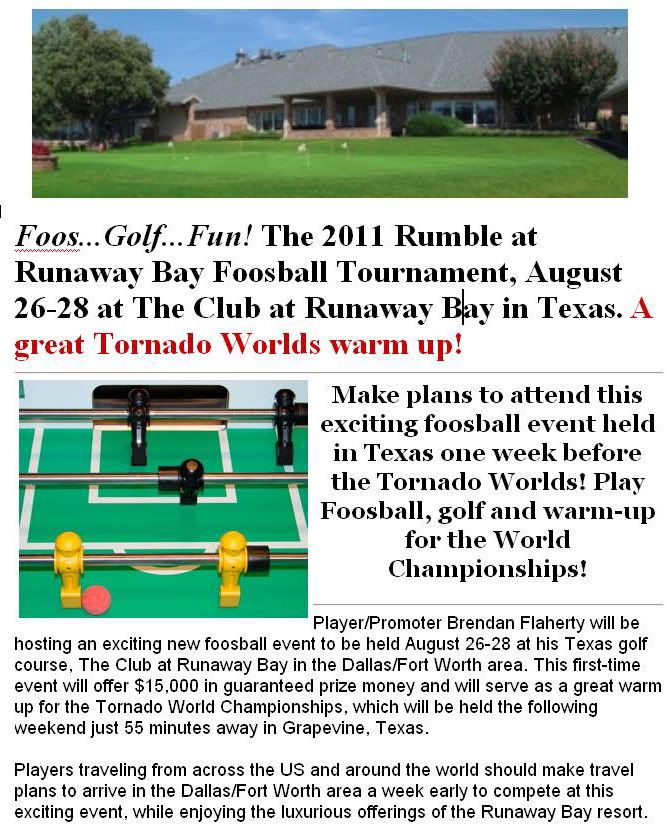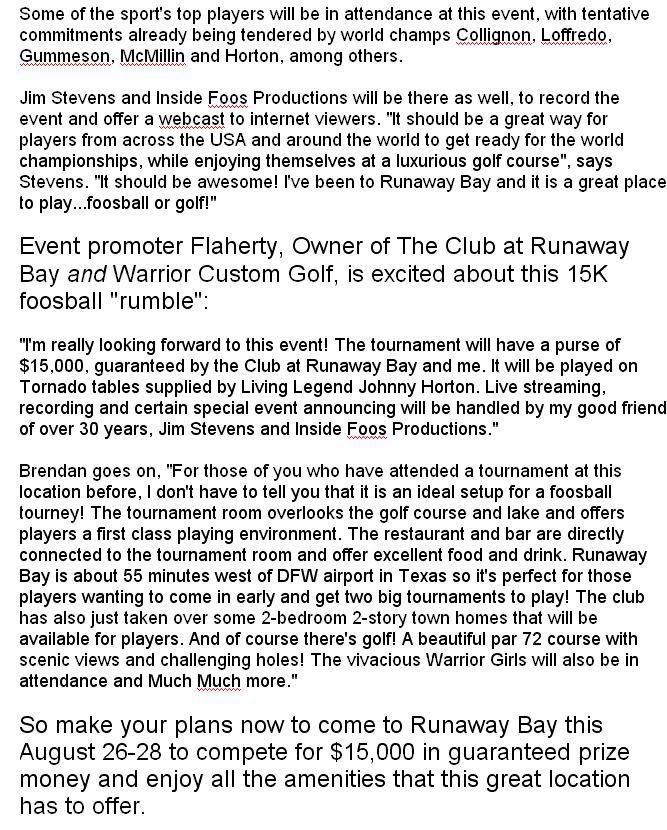 The tournament flyer is now available at http://runawaybay.com/rumb le.html.

Visit www.runawaybay.com for more information on the golf course.

"This should be a whole lot of fun and a great warm-up for the Tornado World Championships!"


$15,000 Rumble at Runaway Bay
August 26-28
The Club at Runaway Bay
400 Halfmoon Way,
Runaway Bay, TX 76426
For More Information Please Email
info@insidefoos.com





From Brendan

Here is a link to the condos

http://www.westwind-manor.com

They have a low weekend rate. these townhomes are huge. sleep 4-6 no prob. they will also make you a special 1 week rate. I will have the golf course supply you with a golf cart for no charge. short cut with golf cart from room to clubhouse. about 1/8th mile.






I wonder if they will have cart races at 2:00 am after the bar closes



oh man this looks so sweet

im very tempted...would actually make this a foos vacation rather than vegas



hopefully Christian and I will be booking flights and hotels today



alright darcy...you book the flights and hotel..i will work at the bar for the next two months to pay you back :)



hah, what do i get out of this deal?



a partner for Am doubles?

All you need to do is book the flights. I would be booking the rooms and I probably won't be charged until checkout time anyway.





Brendan is thinking about putting on a Texas scramble in Texas on the Monday!



If brendan is running that tournament dont expect it to happen very seamlessly, he throw a lot of money at things but isnt very good at planning



I think Johnny Horton is running it. Should run pretty smooth

This thread does not accept replies because:

The last post to this thread is more than 30 days old.